Report/Photos/Interview by: Jason Grigoropoulos
Welcome, you unlucky little fella, to this  wonderful (delayed) report. "Unlucky, you say?" Quite right, my friend, cause you must be of the unfortunate ones for not attending to Kokkinogia Lake the first two days of August and reading this, instead. Worry not, for Jason traveled 658 kilometers (a lot miles) just so you can grasp a fraction from this experience and be able to envy all those people who were there. Off we go!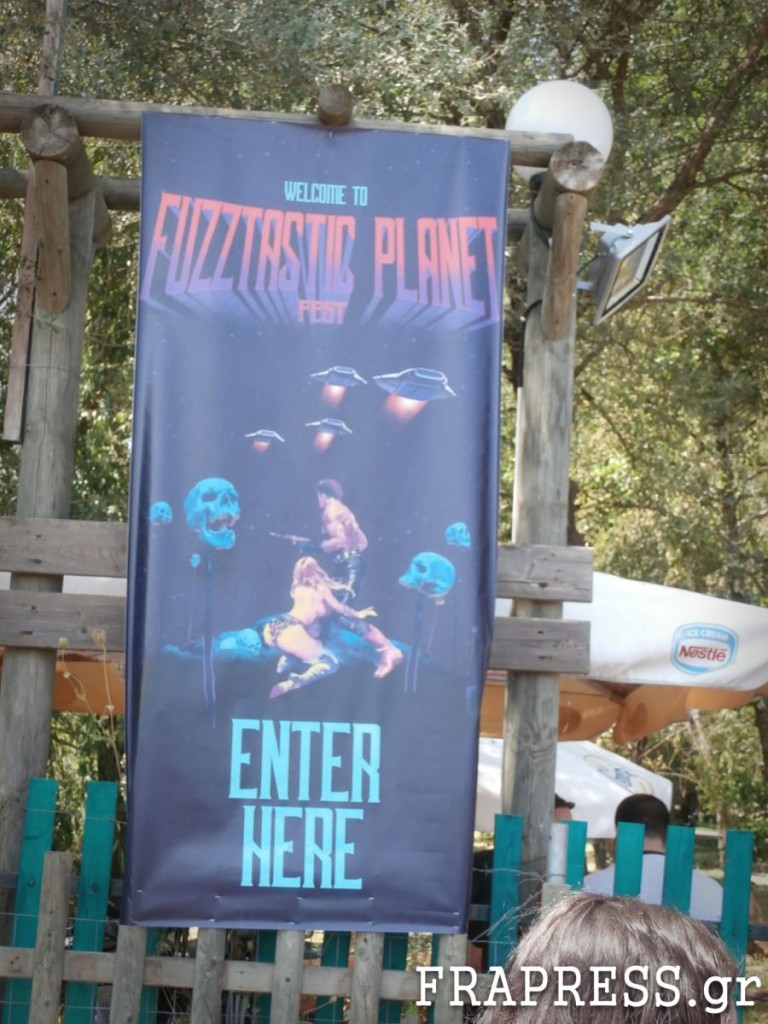 It's a hot Saturday morning in the bus station of Drama; so hot that we could grill steaks on the sidewalk if we liked to, in contrast with the weather report that predicted raging storms. Two buses, depart from the station, fully loaded with fuzzstastic campers. Luckily, the bus driver realized what kind of passengers he carried and didn't play crappy greek music on the radio, as usual. As we arrived at the Kokkino-yeah planet, we took the time to admire the wonderful scenery of nature, set our tents and explore in the venue, with the soundcheck music playing while we enjoyed our beers.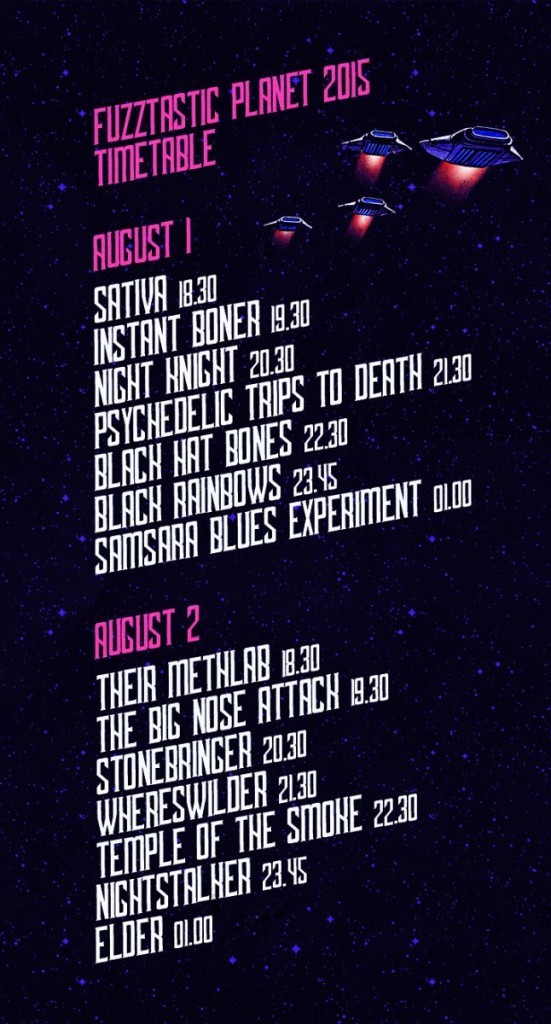 (click on the band names to expand)
At this point, the first raindrops came down, proving true the weather reports, only to stop falling after half an hour. Still, this caused a one hour delay to the timetable and moving the appearce of unlucky Psychedelic Trips To Death to the end.
And so, the first day passed in the Fuzztastic Planet.
Sunday morning began with a reveille that included Metallica; not the most pleasant way to get out of bed… Luckily for us, by the time we grabbed our morning coffee, Tuber was on the speakers. Soon I heard that Elder were about to have their soundcheck, so I ceased this opportunity to listen to this extra treat of music. This proved to be a good decision, as I managed to steal some of Nick and Jack's time and scedule an interview jointly with Vasilis from Downtuned Mag. So, we met them at 18:00 in the camp's tavern for a very informative chat, by the sounds of Their Methlab and Big Nose Attack on the background. Here's what we learned:
And while I was sitting there thinking: How would it be when Nighstalker will have played their explosive set and then (the relatively less known to greek crowd) Elder come on stage after that? And then, we are informed by the organizers that Elder would appear first. I don't know the reason for this, but it was a smart move, if you ask me. Truth be told, Nightstalker were probably the greatest attraction of the event for the Greeks and even Metallica themselves couldn't top them by appearing after them. Thus, the moment I was waiting for had arrived a bit sonner than I expected.
That's all, folks! This was Fuzztastic Planet Festival 2015, an event which was organized, performed, attended to and supported by people with one thing in common: the love for music. At this point I'd like to quote Stef Dimou:
"The greek rock scene exists and its momentum is HUGE. For this we have to "blame" exclusively the local bands, which have lured all these people into rock music. Guys who struggle to gather 50 or 100 euros, in order to buy a pedal, or new strings, or and amplifier, in order to produce quality music, knowing that probably they will never get this money back. But people, hearing each note, understand the sacrifices these guys make and their meraki*, and reward them with an applause, a smile, a pat in the shoulder.

The local bands and the people around them are the rock scene; not the organizers, promoters, shops, unions, or I-don't-know-who-else organizes live shows in this country. If not for the local bands, rousing us from our couches, and getting us to attend events, none of these bands from abroad would be here. Because we wouldn't exist in the rock festival map of the planet."

*Definition: Meraki (pronounced: may-rah-kee); Greek; adjective
1. To do something with soul, creativity, or love.
2. To put "something of yourself" into what you're doing.
Note: There is no English equivalent for this word. Meraki is, unsurprisingly, untranslatable.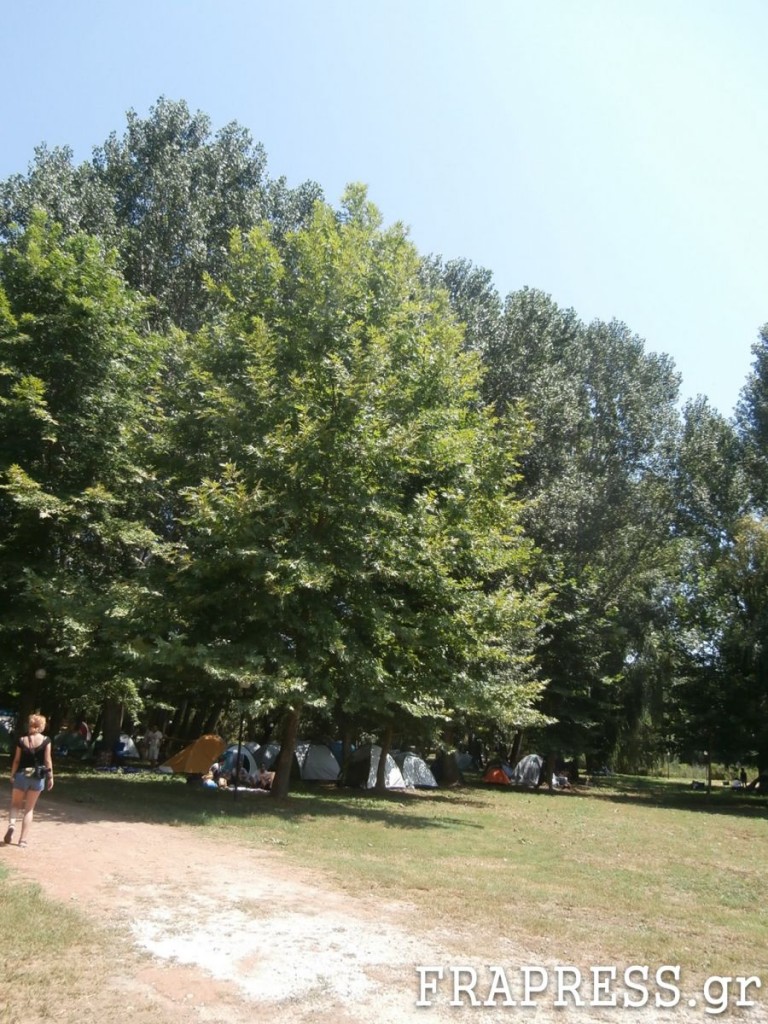 On the next day, as I was waiting for the train, I seized the opportunity to create a little poll with my fellow fuzzcampers. So I asked them which were the bands they attented the festival for, which liked the most (from the ones that they didn't know). Here's what I got:
| | | |
| --- | --- | --- |
| | Came for: | They liked: |
| Sativa | | 3 |
| Instant Boner | | 7 |
| Night Knight | | 5 |
| Psychedelic Trips To Death | | 3 |
| Black Hat Bones | | 5 |
| Black Rainbows | | 6 |
| Samsara Blues Experiment | 10 | 2 |
| | | |
| Their Methlab | | 4 |
| The Big Nose Attack | | 2 |
| Stonebringer | 3 | 7 |
| Whereswilder | | 3 |
| Temple Of The Smoke | | 8 |
| Nightstalker | 6 | 4 |
| Elder | 8 | 5 |
Lastly, I asked them what bands they wanted to see next year. Those were. Villagers Of Ioannina City,  Dead Meadow, My Sleeping Karma, Colour Haze, Re-Stoned/Maat Lander, Naxatras, Brotherhood Of Sleep, Ancestors, Hypnos69
Σχόλια